Silky Foot
Silky Foot Feet Peel Exfoliant Mask Remove Dead Skin Callus Remover
Baby Foot Exfoliation Smooth Milky Feet Peel Exfoliant Mask Removes Dead Skin
One Size Fits All
Retail box displayed in the picture is removed to reduce the postage cost.
Please Read Full Product Description 
And  Follow The Instructions For Usage Below
Individual results may vary.  A significant build up of dead and dry skin may require 2-3 applications of Silky Foot. Allow minimum 8 weeks rest period between each Silky Foot application.
  To ensure maximum results please :
Rub wet feet with your hand to commence the peeling process.

Put on your regular socks over the masks

DO NOT use a foot paddle.

Thoroughly wet

feet daily 

until peeling stage is completed (up to 10 days).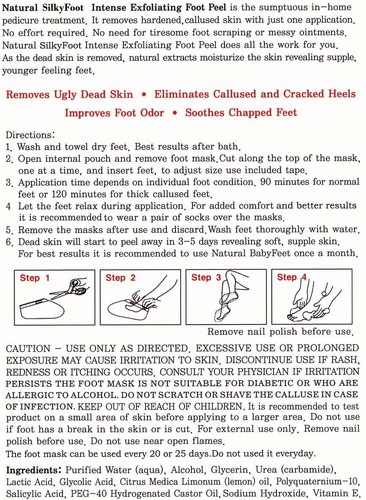 Cautions: 
If there are wound, swelling, itching, inflammation or other abnormalities on the foot, please stop using it.
In case of allergy or sensitive skin, please do not use it.
If it has to adapt to the skin, please discontinue use.
Preservation method  
Please keep it out of reach of kids. Avoid heat and direct sunlight. Put in under low temperature. Dont leave it unpacked for re-use.