Silky Foot
Silky Foot Feet Peel Exfoliant Mask Remove Dead Skin Callus Remover
Silky Foot Feet Peel Exfoliant Mask Remove Dead Skin Callus Remover
One Size Fits All
Retail box displayed in the picture is removed to reduce the postage cost.
Usage Individual results may vary. A significant build-up of dead and dry skin may require 2-3 applications of Silky Foot. Allow a minimum 8 weeks rest period between each Silky Foot application.
Please Read the Full Product Description 
Removes Ugly Dead Skin * Eliminates Callused and Cracked Heels * Improves Foot Odor *Soothes Capped Feet
Intense Exfoliating Foot Peel does all the work for you. As the dead skin is removed, natural extracts moisturize the skin revealing supple, Younger feeling feet.
Intense Exfoliating Foot Peel is a sumptuous in-home pedicure treatment. It removes hardened, callused skin with just one application. No effort is required. No need for tiresome foot scraping or messy ointments.
  To ensure maximum results please :
Rub wet feet with your hand to commence the peeling process.

Put on your regular socks over the masks

DO NOT use a foot paddle.

Thoroughly wet

feet daily 

until peeling stage is completed (up to 10 days).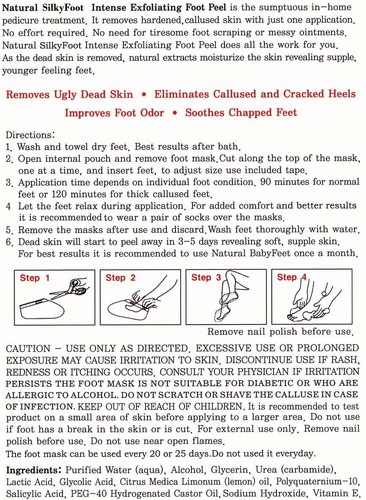 Cautions: 
If you have wounds, inflammation, or other abnormalities on your foot, cease use immediately. People with allergies or sensitive skin should not use this product. If there is any discomfort, discontinue use.
Preservation method  
Keep Silky Foot out of children's reach, away from sources of heat and direct sunlight, and stored in a low-temperature area. Avoid leaving the product unpacked for potential reuse.